Collecting qualitative and quantitative research about your edTech users is the best way to design incredible learning tools. After all, teachers, parents, and administrators are sophisticated users of edTech products. They have high expectations for what learning tools should do—and how effective these products should be. Their opinions also affect whether a school invests time, energy, and money into adopting learning tools in the classroom.
Whether you're just getting started in edTech product design or you're trying to convey the value of user research to your team, this guide offers an in-depth look at how to conduct user experience research in edTech. Learn how to empower your product team with detailed information about a wide range of users and industry trends, so you can make informed decisions, limit risks, and work more efficiently.
This guide will also show you how trends in educational technology inform product design. Find examples of user research at work in real edTech products and walk away with resources you can use right away. 
Table of Contents
What is educational technology (edTech) research?
In edTech, user experience research (UXR) is conducted by interviewing, surveying, or testing product users, including teachers, students, administrators, and parents. 
Data is collected in order to identify pain points, challenges, and user needs for a specific edTech product. User experience (UX) researchers also collect data to determine the efficacy of a learning tool, including whether the tool achieves learning outcomes.
At the beginning of the product development process, UX researchers conduct interviews and surveys to help stakeholders make decisions about their priorities for product features. In addition to interviewing users, researchers will analyze competitor products to determine which edTech trends are driving the market. The resulting product and design recommendations help edTech stakeholders make decisions quickly and easily.
Most edTech companies already have insights about the people who use their products. But user experience research offers more clarity by:
Providing qualitative and quantitative data about users.

Identifying relevant, valuable trends in the industry.

Minimizing risks and maximizing product budgets.
The edTech industry continues to grow rapidly, which means competition for investment, product development, and school adoption is fierce. Between 2021 and 2026, the edTech market is expected to grow from $183.4 billion to $410.2 billion at a compound annual growth rate of 16%. New edTech products will have to cut through the noise by being well-researched and well-designed.
5 UXR terms to know
User experience research (UXR) in edTech is a specialized field. We use terms common in market and commercial user research, but we apply those terms to describe teaching, learning, and classroom environments. 
Whether you're conducting your own UXR or working with an external team, these are the 5 terms you need to know.
1. User experience research (UXR)
User experience research is the process of interviewing, testing, and observing users in their environment. In edTech, this means interviewing teachers, students, and administrators to better understand their needs, challenges, and pain points in the classroom. The phrase is often shortened to "UXR."
2. Discovery
Discovery is the initial phase of edTech product development. This is typically when a researcher interviews users, researches competitors, and conducts an audit. 
Discovery work lays the foundation for product design. The final recommendations from a user experience researcher will provide stakeholders with a strategic path for prioritizing features, making design decisions, and spending the product budget.
3. Persona
A persona is a researched tool that reflects the needs, motivations, challenges, and pain points of a specific type of edTech user or buyer. Typical edTech user personas include teachers, students, specialists, and coaches. 
If it makes sense for your edTech product, you might even create multiple teacher personas. Using multiple teacher personas will help you capture differences in teaching experience, expertise, or comfort with technology. That way, you can design a stronger product for all teachers who use your learning tool.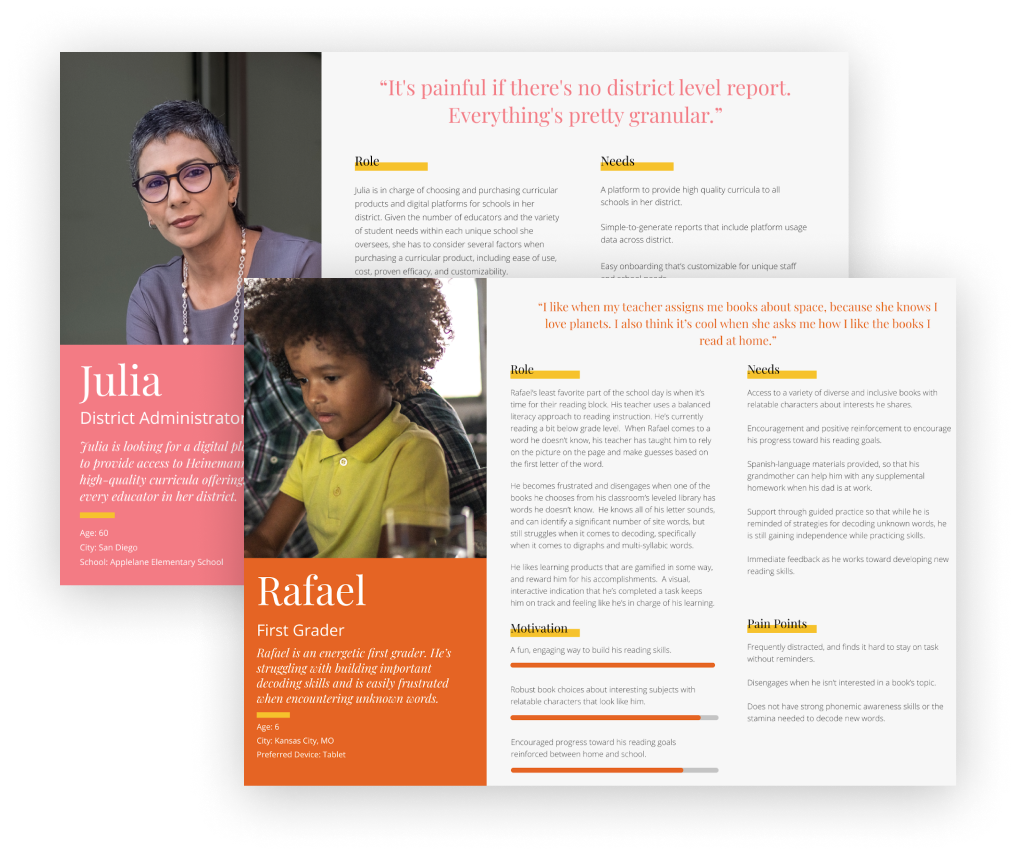 Buyers are also included in edTech personas. A typical edTech buyer is a district administrator or head teacher. Unlike other industries, edTech buyers are also product users. Administrators will typically only monitor product engagement from a very high level, rather than use the edTech product every day.
4. User journey
A user journey is a narrative tool that describes each phase of a user's engagement with your product. Most user journeys describe what a user is doing before, during, and after they use your edTech product, as well as how they feel during each of these phases. User journeys help product teams develop empathy for their users and keep their challenges top-of-mind during the design process.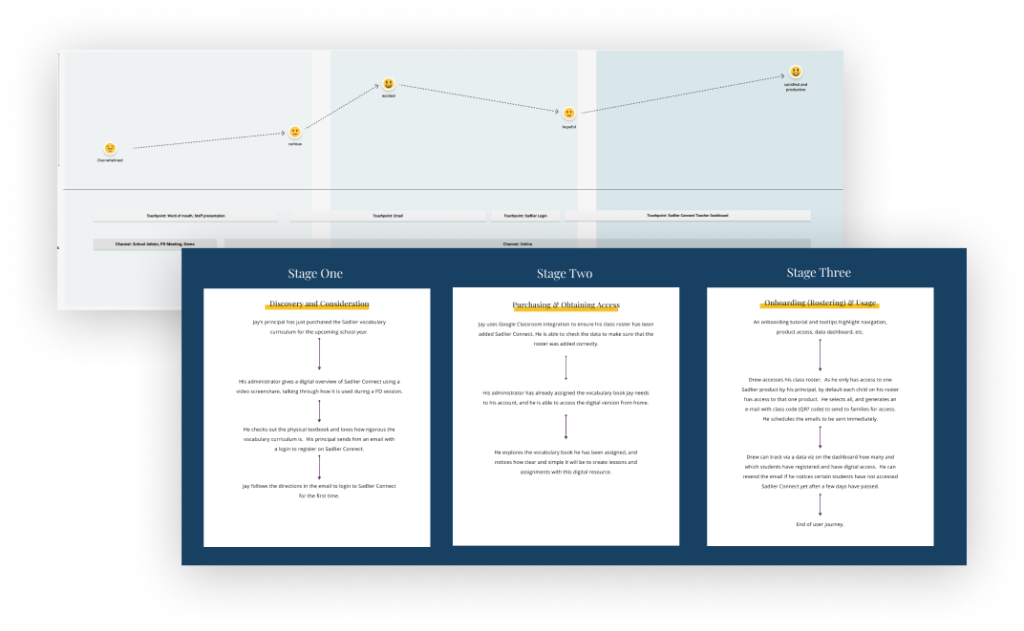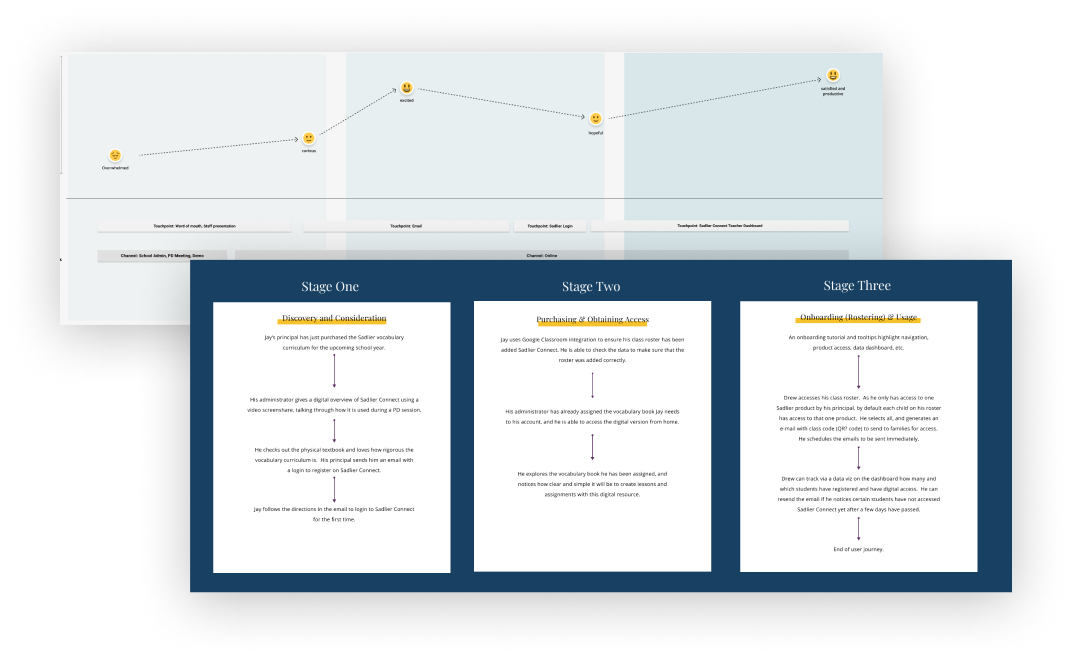 5. User testing
User testing occurs once your product team has developed a prototype, or a lightweight version of your edTech tool that users can click. Researchers observe how users interact with specific screens in the prototype, ask questions, and even record the interactions for further study. 
In order to build a clickable prototype for user testing, your product and engineering teams work together in a process called rapid prototyping. This is when you quickly iterate and develop screens to test out a feature idea.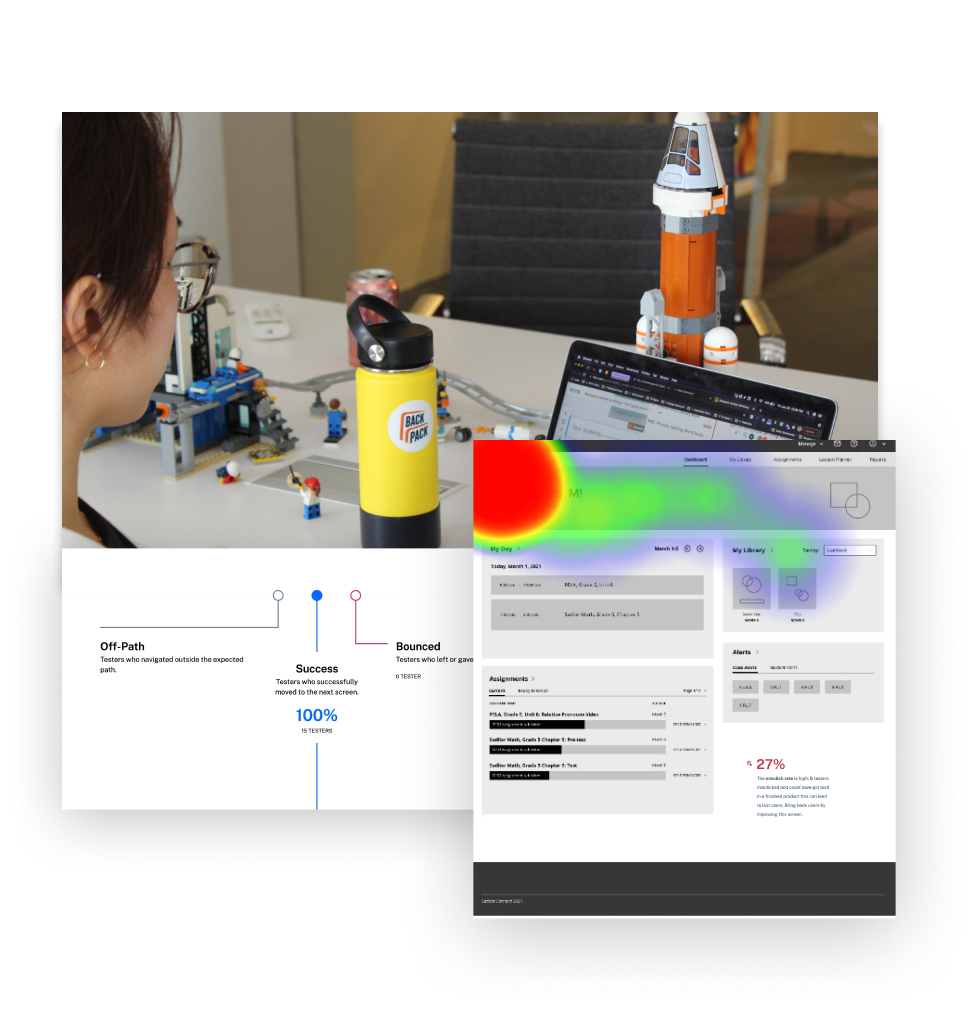 Why conduct edTech research?
User experience research allows you to understand user problems within your existing products, identify gaps in the marketplace, and minimize the risks you take to address these needs through product design. 
Conducting UXR also produces qualitative and quantitative data. By the end of the UXR process, you'll have user interview transcripts and hard data to back up your decision making.
edTech research typically costs 10% or less of your total design and engineering budget. However, it provides a strong return on investment (ROI) by saving you time and work along the way. 
You'll also receive a wide range of insights from user experience research findings that can be applied to products for years to come. These insights include:
A more nuanced understanding of your product users

Data about why users experience challenges in your products

Which competitor products your users turn to for specific features, value-add, or integration capabilities

Trends in edTech that end users, or your competitors, have identified as new needs

Opportunities in the market for addressing a specific challenge faced by teachers, students, or administrators

Areas of focus for product design, so you don't waste your time and engineering budget

Data about whether your product will perform well in a school setting

Anecdotal data about how your products are currently being used
Ultimately, great UXR gathers up-to-date information about your users and industry trends. This data will help your team eliminate confirmation bias, so you can find creative solutions to real challenges and pain points. With more clarity, you can minimize business risks and accelerate your product timeline.
Types of user experience research in edTech
edTech users are incredible sources of insights and data. User experience researchers use both qualitative and quantitative methods to learn what teachers and students need from edTech products.
Qualitative user research
Qualitative user research findings provide important details about your edTech personas, including their needs, motivations, challenges, and pain points. These methods include:

Conducting user interviews

Observing users in real classrooms

Analyzing field responses to surveys

Interviewing Customer Success teams
In addition to helping you develop an edTech persona, qualitative findings are used as quotes, insights, or observations in order to support product design recommendations. 
It's also helpful to hear the tone of users as you conduct interviews. This one-on-one interaction builds empathy with your user's pain points and results in stronger product design.
Ultimately, conducting rigorous qualitative research helps you understand the "why" behind your quantitative data.
Quantitative user research and user testing
Quantitative user research, on the other hand, results in measurable data. For example, you may want to know the percentage of users who already have a specific edTech product. Or, you might wish to calculate a task completion rate within your learning tool. 
Quantitative research methods include:
Conducting user surveys

Reviewing Google analytics or product analytics

Conducting user flow testing to measure specific user interactions
Together, both quantitative and qualitative research will paint a clear picture of your users' classroom environment, the challenges they face, and how you can improve edTech product design.
Competitor research
Competitor research, in the form of a competitive audit, is the fastest way to identify innovative trends in educational technology. New edTech trends might represent a business opportunity, reveal a gap in the market, or identify an emerging user need.
During a competitive audit, you'll evaluate top competitors in the field, identify user pain points, and zero in on user needs from a design or UX perspective. Once you've audited the products of your competitors, you'll be well-positioned to identify your business opportunities and prioritize features for your learning tool.
Auditing
In addition to researching your users and competitors, it's important to investigate how well your own edTech products work. Conducting an audit is the best way to evaluate the functionality of learning tools. Three common types of audits include:

A technology audit.

During a technology audit, you'll analyze your current technology stack and architecture in order to improve the platform and workflow.

An accessibility audit.

Accessibility audits evaluate how well your website or learning tool complies with

Web Content Accessibility Guidelines (WCAG)

and with the ADA. You will assess color contrast, font sizing, navigation, use of images and icons, screen reader optimization, and more.

A usability audit.

In a

usability audit

, you will

review your existing product and identify areas in the user experience or user interface (UI) to improve. You may also recommend new features based on your findings.
After you've conducted research on both your users and competitors, you'll have collected plenty of insights, data, and analysis on the needs and trends that will help you design more effective learning tools.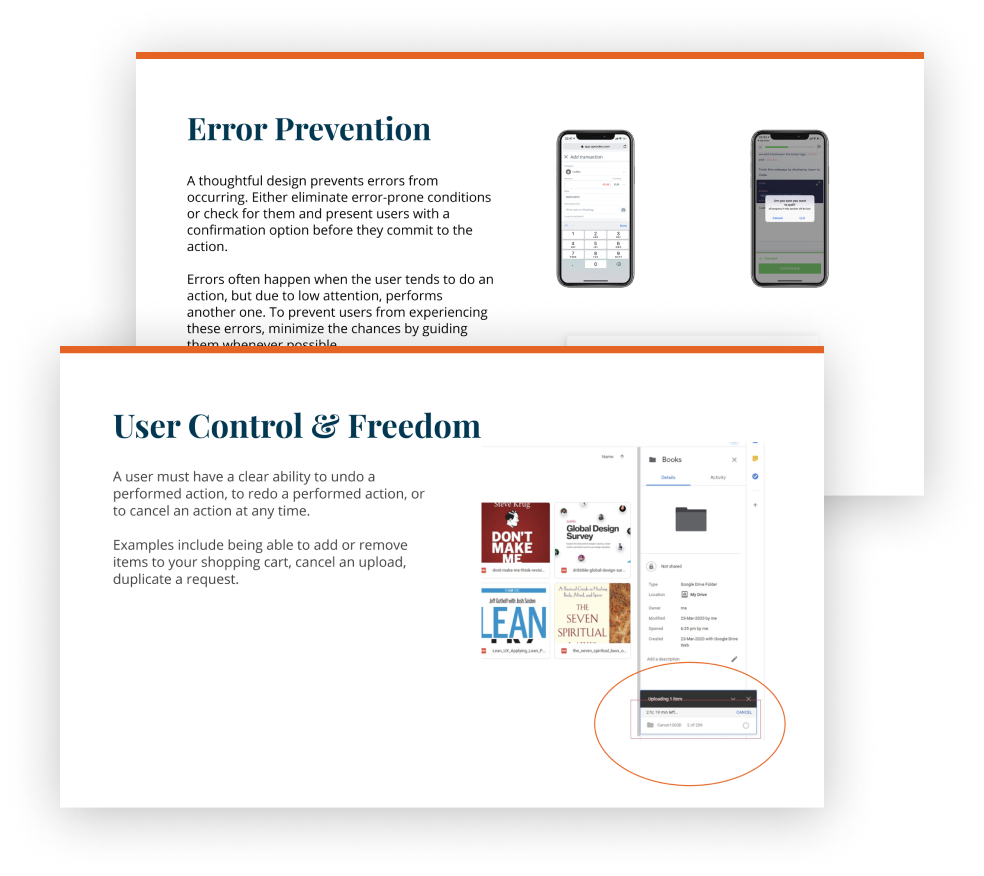 How user research and trends inform edTech product design
Whether you're working with an internal or an external UX team, the final recommendations from a UXR engagement allow you to build smarter learning tools. Specifically, user experience research findings help you perform the following product design tasks:
Develop edTech user personas
Research-backed personas are the foundation of good edTech product design. By clearly outlining your user's needs, motivations, challenges, and pain points, an edTech persona keeps your entire product team aligned on what teachers and students really need in your product.
Create a user journey
User journeys are narrative tools that reflect the insights of UX research. They illustrate what a teacher or student is doing before, during, and after using your edTech product, as well as how they feel throughout each of those stages. 
They also identify easily overlooked barriers, like slow school internet connections. By collecting these details in one place and telling a story about product usage, user journeys help product teams design tools that meet the needs of users' everyday environments.
Apply user data to product features
If you're trying to solve a specific UX challenge in your edTech product, ask your UX researchers to review product trends, audit data visualization screens, and test user interactions. Whether your goal is to better support existing users or to increase product engagement, applying user data in edTech products results in smarter product design.
Identify gaps in the edTech market
By researching your competitors, you'll be able to identify which gaps in the edTech marketplace represent opportunities for your learning tools. Marketplace gaps are a great way to direct your product team's focus, from investing in exciting edTech innovations to alleviating common pain points.
Make strategic decisions with stakeholders
Research findings, analysis, and recommendations also help stakeholders make more confident decisions about product design. After all, if your user research, product data, and competitive analysis all point toward a single solution, you'll eliminate the risk of designing a product or feature that won't serve your users' needs.
Ultimately, edTech user research findings and observations about trends are meant to be actionable. Incorporate them into your UX deliverables and product design strategy for the best outcomes.
How to follow shifts in edTech trends
UX researchers use many strategies to stay on top of emerging trends, tools, and needs in edTech. Here are five ways you can follow shifts in edTech trends:
1. Keep your user research up-to-date
Designing edTech for the long term requires following the trends in your own user base. Don't wait too long to interview, survey, and test your current customers between projects. The more frequently you update user research findings, the easier it will be to spot the trends that define usage in your edTech products. It's also important to connect with teachers who use competitor products, or who are not familiar with your offerings, so you can get additional user perspectives on tech-based solutions.
2. Widen the net for your user surveys
edTech users who regularly participate in surveys might not be the most representative users of your customer base. Expanding your research will help you identify user trends with more accuracy, solve for outlier cases, and create a stronger overall user experience. Be sure to give yourself enough time to meet your goals.
3. Research your competitors
Competitive research reveals industry-wide trends in edTech, including how other edTech companies solve problems, add value, and address their users' needs. Conduct a full-scale competitive audit of a specific tool or feature to track how your competitors are handling hot-button topics, including social emotional learning and adaptive content.
4. Read widely in the field
From trade publications to LinkedIn, industry professionals discuss edTech trends in every corner of the internet. Read widely in the field to follow the topics, challenges, and questions that define edTech in real time. We recommend publications like:
5. Follow investment data
edTech startups regularly receive infusions of cash from venture capital firms. Tracking these investments on TechCrunch, Crunchbase, and McKinsey can provide insights into the latest trends. Always cross-reference observations about funding trends with your own user research findings before making decisions about your learning tools.
By regularly following conversations about edTech trends, you'll enrich your approach to edTech product design and conduct more informed user interviews, surveys, and tests.
3 examples of edTech trends backed by UXR
When edTech trends emerge, it's good practice to validate their significance through user experience research. Here are three examples of edTech trends supported by our own user research findings for a variety of edTech companies:
1. Designing adaptive edTech Tools
Adaptive edTech tools are learning tools that:

Anticipate a wide range of student needs in terms of content and concepts

Offer teachers customized ways to organize, sequence, and scaffold learning content together

Provide enough context for student answers, so student data is more helpful for educators
These tools aren't just popular for supporting students with special needs or different learning abilities. Backpack Interactive's user research findings also identified the challenges teachers face due to a widening learning gap in many U.S. classrooms—that is, a gap between where students typically perform and where they're currently performing. 
For example, a fourth grade teacher may now need to re-visit concepts from 2nd or 3rd grade to get their students up to speed. edTech companies can better support teachers by building more adaptive learning tools.
Want to learn more about how to build adaptive learning tools? We have user research, including personas, qualitative interview findings, and product recommendations you can apply to your tools right now!
2. Using SEL features across the curriculum
Students who learned at home during the pandemic also experienced a drop in their social-emotional learning, or SEL, skills. While SEL-specific edTech products can help, our user research findings indicate that almost every learning tool can benefit from an SEL component. 
edTech products that offer users chances to collaborate, build community, and apply their creative problem-solving skills are more engaging and more robust. Learning tools that leverage these engagement tactics address the CASEL framework for promoting social-emotional learning. They also work whether you're designing a reading, math, or science edTech product.
3. AI in teacher-facing products
Artificial intelligence (AI) in edTech products should make teachers' jobs easier, speeding up tasks that take a long time and extending their reach to more students. When interviewing teachers, we often hear requests for:
Products that adjust learning content to a student's level of understanding

Products that provide feedback to students so they know whether they're on the right track

Products that help them quickly group students by level or need

Products that prevent cheating
Smart applications of AI can address these needs in teacher-facing products by:

Designing adaptive learning content and content sequences that respond to student input

Identifying specific moments in the experience where just-in-time feedback is most helpful for learners

Creating meaningful relationships between product analytics and grouping features

Using

ChatGPT tools

to identify student-submitted content written by AI
By conducting user experience research, you can validate how trends like adaptive edTech products or learning tools powered by AI will work best for your users. The end result? A smarter edTech product that addresses your user's long-term needs—not just what the market says is trendy right now.
Tools and resources for conducting UXR in edTech
Ready to learn more? We collected the best tools for conducting edTech research below, so you can improve your UXR methods and track your competitors.
1. UserTesting.com
On UserTesting.com, it's easy to create a profile of your ideal demographic. Then, the service recruits edTech users that match your needs. edTech is a specialized field, so finding a high volume of users through this recruitment method can be challenging. But it's worth using if you have specific research objectives in mind and need additional support with user recruitment.
2. SurveyMonkey
Send edTech users survey questions and collect responses with SurveyMonkey. The free tool is great for research teams working on a budget.
3. Google Analytics
Researching user behavior on your own site offers a multitude of insights. Let Google Analytics point the way toward a more specialized need, like examining completion rates on a specific set of screens in your learning tool.
4. Hotjar
Hotjar is a heat mapping tool for live products or websites that allows you to track user behavior. You'll get detailed visualizations of user interactions, and you can also record user tests to review later.
5. Maze 
Conduct user testing with a clickable prototype using Maze. Break up a screen into individual tasks, provide moderation and support, and record your user tests for review.
6. Condens
A streamlined tool for collecting, analyzing, and sharing all your research findings with other stakeholders. Condens also provides transcription services within the app, so you don't have to work with an additional tool to transcribe user interviews.
7. Coda
Coda is a documentation and planning tool for teams. Keep your research questions, recruitment data, timelines, and results all in one easy-to-access document.
The Value of edTech Research
Conducting and applying user experience research to your learning tools is the best way to design smarter products. With detailed research on your users and competitors, you can validate new edTech trends, minimize risks, and accelerate your product timeline.
As the edTech market expands, competition will only become more fierce. Software companies and educational publishers must be ready to invest in understanding their users to differentiate in a crowded market. 
After all, when you design an edTech product that solves real user needs, teachers, students, and administrators take note. And your tool is one step closer to adoption!
Looking for more examples of edTech trends supported by user research? Download our FREE report on designing adaptive tools and receive validated teacher personas, qualitative insights from our Teacher Council, a competitive audit, and design recommendations you can use ASAP.