Researching and creating user personas for your edTech product is crucial to its success, with benefits that extend beyond better learning outcomes or improved usability.
After all, the relationship between edTech buyers and end users is complex. Your entire team must align on user needs, buyer expectations, and the marketing goals that will drive how your product is positioned and sold in order to break through the noise.
Thankfully, a well-researched user persona can do just that. edTech personas give you the insights you need to align your team, identify feature priorities, and streamline product development.
Below, we outline the four edTech personas central to any learning tool, so you can see a quicker return on your investment (ROI) in user experience research.
Let's dive in!
What is an edTech persona?
A persona is a user experience tool that reflects the roles, motivations, needs, and pain points of an edTech user. These tools are developed through qualitative and quantitative user experience research (UXR), including user interviews, surveys, and testing.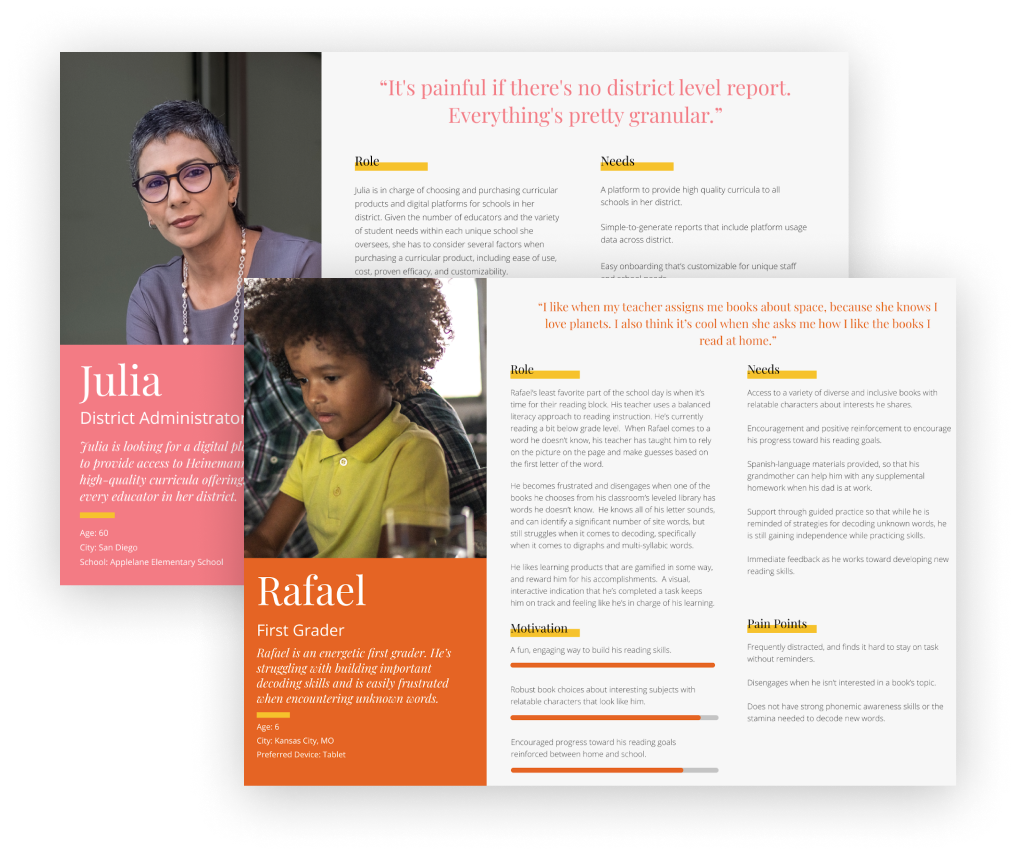 Sales teams and customer support teams also have great insights into the needs of edTech buyers and users. However, it's best to validate these observations through additional UXR. This way, your team will make the most informed decisions for your edTech product and its features.
4 edTech personas for any product
There are 4 edTech persona categories product teams should consider before designing features for any learning tool. They are:
Students or learners.

This is the largest and most nuanced category, which covers K-12 learners, college students, adult learners, and students with special needs. Your design challenges will change drastically depending on which age group your learning tool supports. Persona research provides a crucial foundation for addressing these challenges with empathy, efficiency, and rigor.

Teachers.

Teachers, including specialists, face a range of challenges in the classroom, from integrating technology to proving efficacy. Their biggest overall concern is saving time. Your persona research should provide an accurate picture of their day-to-day working environment and account for a range of attitudes toward edTech products.

School administrators.

This buyer persona is typically an infrequent, but very important user of edTech products, making it a challenge to design for their experience. Your learning tool must demonstrate value to someone who may almost never log in—but who holds enormous power over purchasing and software adoption decisions. Ultimately, administrators should feel confident giving your tool to teachers who didn't have a say in purchasing the product.

Parents.

At home-learning accelerated the need to consider and design for the parent persona. It also made parents more sophisticated consumers of edTech products writ large, expanding design possibilities. In addition to supporting student log-ins at home, parents also regularly share home technology with their school-age children. They expect to receive detailed reports and communicate with teachers using edTech tools.
With additional UXR, you can uncover the nuanced needs and challenges of your own target users and buyers. From young learners to reading specialists to the parents waiting at home, each of your users deserves to be supported by the UXR findings that will make your learning tools more effective.
The real benefits of accurate user personas in edTech product development
For any B2B product, the buyer persona isn't necessarily the end user. Rather, the end users of B2B software are highly trained professionals who need technology training to perform their roles well.
Even though edTech is a B2B industry, it's different from other kinds of B2B software design. Our end users are even further removed from the purchasing product.
For example, school administrators typically buy products, while teachers use those products to manage their classroom and assess their students. Students are yet another end user who benefit from the product's learning experience.
Why is this a big deal?
Even though you're designing a product for a teacher or student to use, you're still obliged to design that product in a way an administrator thinks a teacher would like to use it. In addition to the product experiences for teachers and students, administrators will consider questions like:

Does your learning tool look great and easy to use? 

Does your edTech product have a compelling data story? 

Can it demonstrate efficacy? 
Even if administrators never log into the experience, your learning tool must appeal to their needs. Without accurate edTech personas, this complex web of relationships is nearly impossible to navigate successfully.
The ROI of edTech persona research
Good user persona research is invaluable and has many benefits you can apply across your organization. It creates a shared understanding about your customers among all stakeholders, from the marketing team to your content and instructional designers.
In addition to cost savings in UX and UI, personas create "soft" value in three areas:
1. Feature prioritization
When you develop an edTech product, there are numerous creative and technology avenues open to you. edTech personas are the best way to narrow these options down to the features your customer really wants, rather than the features that will simply fit your business needs. As a short-hand for all of your user research, edTech personas give you an easy way to align customer needs with business goals.
2. Content design
edTech software serves as an interactive hub for all of your users. The dynamics, expectations, and needs change drastically as students age, and the content a teacher needs will shift from grade to grade or from the beginning of the school year to the end. edTech personas help you understand and account for these nuances, which will affect how you present content in terms of both UX and UI.
The learning gap created by the pandemic has made edTech persona work even more important for content design. As students continue to make up for lost time, the amount of content scaffolding only continues to increase. New or refreshed edTech personas can accurately capture these needs from the beginning of your project.
3. Team alignment
Most importantly, edTech personas are key to helping your entire team build empathy and align on a strategic direction. Building empathy for users is important because it allows you to delegate, spread out decision making, and empower your entire team to make both creative and design choices that reflect user needs and challenges.
No matter what phase of product design you're in, well-researched edTech personas will help your team design from a strong foundation. That way, you can build products more efficiently and reap additional benefits from user research as your edTech product grows.
Start the edTech persona research process today
As we head into a new school year, it's time to refresh your existing edTech personas to meet the challenge of the moment. Whether you conduct new user research, organize a user survey, or hire an external team to do the work for you, updating your edTech personas is a cost-effective way to build foundational success for your learning tools.