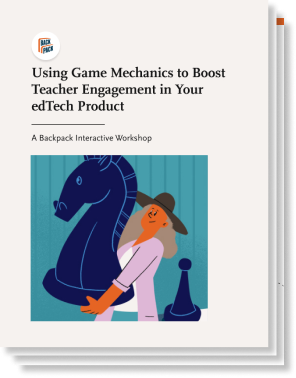 Quizzes. Badges. Levels. Leaderboards.
We design these features for students who use our edTech products—why not teachers?
Hear us out.
Game mechanics in teacher-facing products:
Support verified teacher needs

Boost feature adoption

Improve teacher efficacy

Dovetail with existing features in your learning tools
Whether you're designing a professional learning product or an assessment tool, your edTech products are ripe for this business opportunity.
And this workshop will show you how to do it with minimal fuss.
Download your free self-directed workshop
This self-directed workshop offers everything you need to incorporate game mechanics into your teacher-facing products.
Generate ideas, foster discussion with your stakeholders, and align on feature priorities. You'll get:
4 workshop exercises

to conduct with stakeholders

12 pages

of facilitator notes, so you can cut down on planning time

1 link

to our customizable workshop templates in Miro, so you can make the workshop your own!
edTech product workshops are effective but time-intensive to design and facilitate. Our exercises, notes, and customizable templates put you ahead of the game.
You'll come out of the workshop with ideas for surprising, delighting, and engaging teachers—without making your product feel less professional.
To download this resource, please enter your email and information.
"*" indicates required fields