For the past 20 years, Backpack Interactive has partnered with museums, universities, publishers, and major design firms to create edTech that engages learners and makes it even easier for educators to do their work.
By focusing on the simplicity and accessibility of our clients' UI, we've built products that amplify the efforts of hard-working teachers and create learning environments outside of traditional classrooms.
Whether you're working on a new way to address SEL in your product or re-thinking your approach to UXR, our impactful work with Scholastic, Wharton Business School, LEGO, and others can help you hone your own learning experience design principles and create even more valuable products for your users.
We know these forward-thinking design principles will take our business—and yours—into the next 20 years, and beyond. Here's to the future of edTech!
We believe in the power of good design.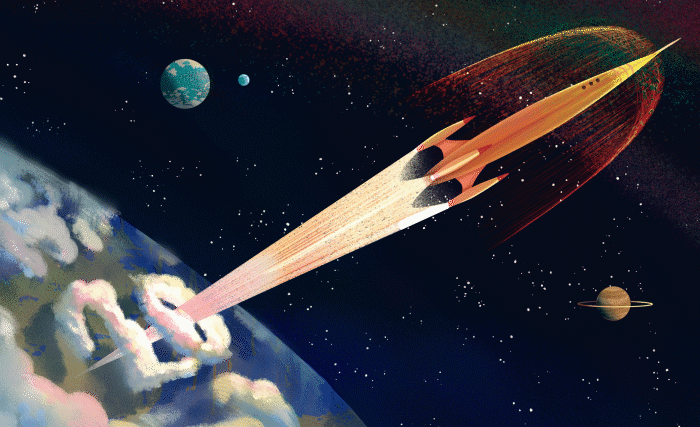 Good design simplifies complex ideas in powerful and memorable ways. It isn't just a nice-to-have—it's a must-have.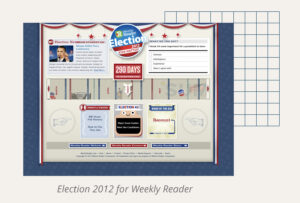 Then:
In 2012, Weekly Reader (now Scholastic's Classroom Magazines) launched a digital platform designed to help kids understand the presidential election process.
Visual presentations and interactive timelines helped learners understand both candidates and the electoral process, while polling tools encouraged students to weigh in and share their opinions. The look and feel was playful and fun making the complex subject matter visually inviting.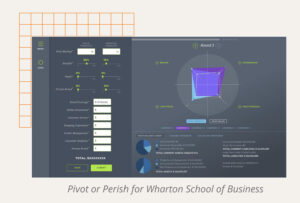 Now:
In 2019, we designed Wharton Business School's marketing simulation, Pivot or Perish. Pivot or Perish allows students to role-play as executives for a major department-store chain competing with online brands. Our UI helps them see the impact of their marketing decisions over time and displays complex data in slick, clean graphs and visualizations. By streamlining the game's instructions and contextual data into one, comprehensive learning experience, we ensured a complex game was a colorful, engaging, and fun learning tool.
Simplicity and accessibility go hand in hand.
When you simplify your design interface, you put fewer barriers between users and their end goal. Simpler experiences allow both teachers and students to concentrate on learning concepts—not learning software.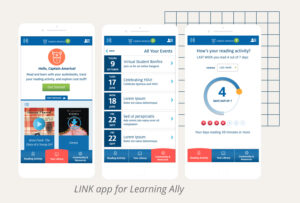 Then:
Learning Ally's LINK is designed to transform the learning experience of students with dyslexia or visual impairment through the power of audiobooks. In order to boost student confidence and lower barriers to engagement, we designed an app interface as simple, friendly, and powerful as its content. Since its launch in 2014, students have "read" more than 1 million pages in the app.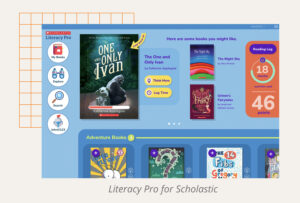 Now:
As a comprehensive independent reading platform, Scholastic's Literacy Pro application allows students to choose eBooks from Scholastic's vast library based on their own interests and set reading goals. Our visual search interface helped eliminate typing for early readers and pre-readers, making the product more accessible.
The best edTech amplifies teachers.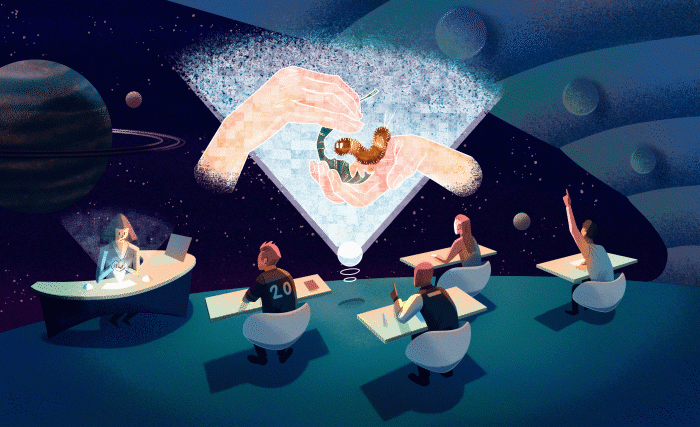 By streamlining teachers' heavy workloads, well-designed tools give educators more time to teach and focus on their students.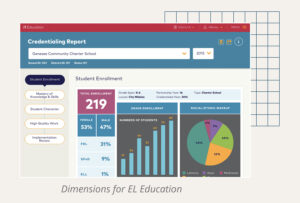 Then:
When EL Education needed to design a suite of reporting tools for educators, we created easy-to-use data collection software that required limited training. Used in real time on tablets, the software helps coaches and school administrators observe classrooms. Educators take supportive evidence photos using the tablet's camera and access reporting features that highlight their most important next steps. By streamlining reporting and eliminating guesswork, we give educators back valuable time in their days.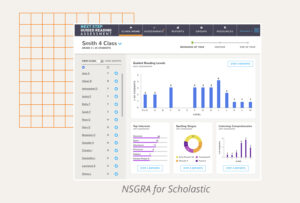 Now:
In 2019, we worked with Scholastic to redesign the Next Step Guided Reading Assessment, a suite of tools that assess students' ELA skills and provide actionable reporting for teachers. We streamlined what had always been a complex workflow, making it easier for teachers to assess students in real time. The tool's reporting features are also simple and intuitive, with drag-and-drop grouping features that help teachers plan instruction and address individual or group performance.
We believe in human-centered design.
We depend on user research to validate our classroom and at-home learning solutions, so we always create tools that streamline the efforts of those who facilitate learning.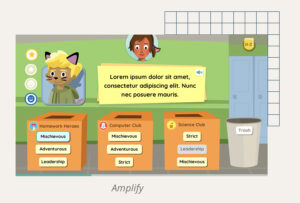 Then:
As we designed the UX for Amplify's English Language Arts games, we held weekly UXR sessions with real students in the classroom. With real-time reactions to guide our work, we were able to iterate and refine the UX of each game quickly. This kind of rigorous usability analysis always results in a stronger, more relevant end product that serves its users. We find this to be especially important for learning games.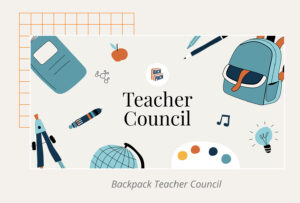 Now:
In 2020, we launched Backpack Interactive's Teacher Council to reaffirm our commitment to human-centered design. This group of educators provides us with consistent insight into the problems teachers face around the country. They also participate in in-house user testing, research, and qualitative interviews about our client projects, from requirements and priorities to individual design features.
The best edTech can be used anywhere.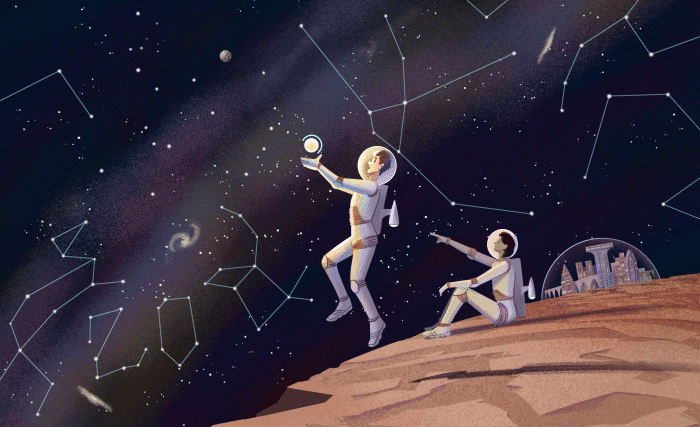 Not in a classroom? No problem. We believe the principles of a great learning experience can always be combined with technology and design to help users learn in many different places, spaces, and contexts.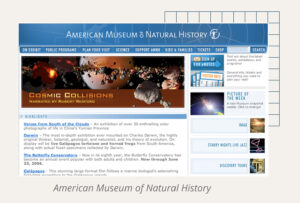 Then:
In 2000, we partnered with the American Museum of Natural History to redesign their main site to include digital exhibits. We also supported the digitization of AMNH Education, a curriculum guide for teachers interested in bringing AMNH exhibits into the classroom. Through good design, animation, and curricular tools, AMNH's digital exhibits became a learning experience that could reach users both in and out of the classroom.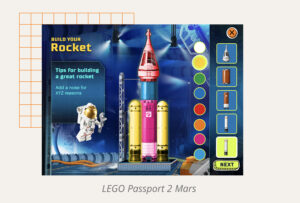 Now:
Launched on the 50th Anniversary of the lunar landing, LEGO's Passport to Mars was designed to foster independent summer learning. A series of educational games, Passport to Mars teaches children ages 7-10 about engineering, teamwork—even space botany! Our project partner, Scholastic, validated all of the educational aspects of the product and helped extend the product's reach into classrooms the following fall.
edTech UX designers are specialists.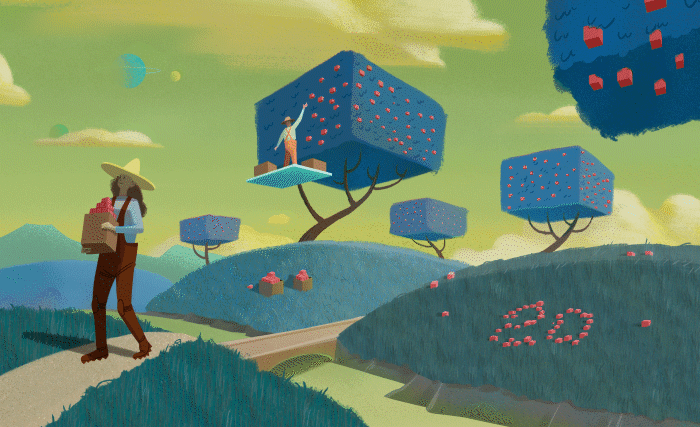 Because we work with students and teachers, we need to know more than good design principles. edTech UX designers also need to specialize in learning science in order to design stronger, more impactful learning tools.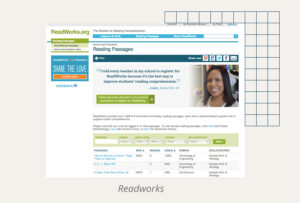 Then:
In 2008, we helped ReadWorks pivot their entire organization and delivery model to a digital platform. A national nonprofit, ReadWorks partners with K-12 teachers to provide high-impact instructional materials and tools that make an immediate difference in reading instruction.
By translating their offline curriculum into something they could use digitally, the organization was able to extend its reach across the country. In order to support how teachers would use this tool, Backpack Interactive needed a deep understanding of learning science, as well as a specialized approach to UXR.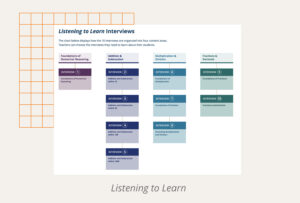 Now:
Listening to Learn leverages the subject-matter expertise of Marilyn Burns and Lynne Zolli to facilitate interviews between teachers and students. These interviews help teachers better understand students' numerical reasoning abilities in real time.
Backpack Interactive's understanding of the classroom environment, knowledge of teacher-student dynamics, and the ability to test and validate assumptions helped us further refine the product's interface. With a crisp, clean UI, Listening to Learn streamlines the interview process for teachers and helps them record findings in real time. This way, teachers can focus on interviewing—not on learning complex software.
We believe in the power of partnership.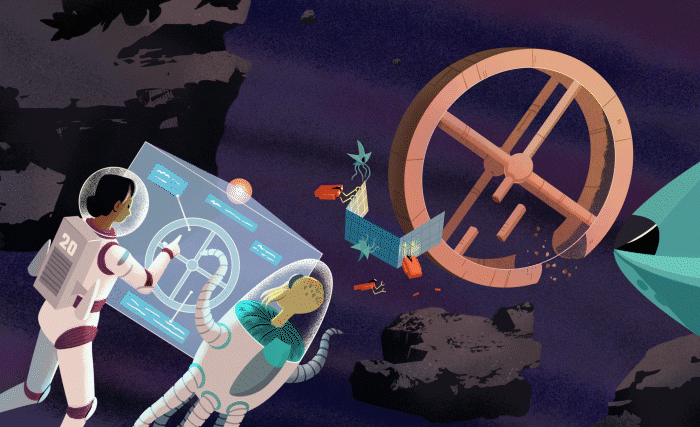 We believe in the power of partnering with organizations that share a mission to make an impact on learning.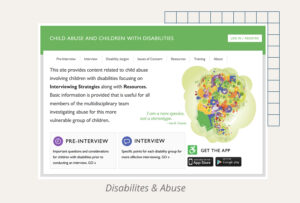 Then:
Forensic interviewers are often thrown into time-sensitive situations. For those who work with differently-abled, abused children, the stakes are even higher. Faculty at Columbia University's Teachers College wanted to design an easy-to-access digital learning resource for students working in their Disability and Abuse Project, so young professionals could better support these extremely vulnerable crime victims.
To help with this important mission, we created an easy-to-use app and supporting website. The content featured in the application was developed through years of groundbreaking research. Our app design made it easier for Columbia students to find these resources as quickly as possible and get victims the help they need.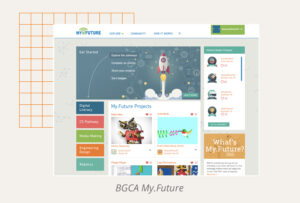 Now:
When Comcast and NBCUniversal teamed up with the Boys & Girls Clubs of America to transform the way their young members experience technology, they engaged Backpack to launch My.Future. Through engaging, project-based activities, My.Future helps kids develop skills to succeed in school, stay on track for high school graduation, prepare for college or a career, and meet the demands of a technology-driven society. By creating a tool for students that empowered them to set goals for their future careers, we fulfilled part of our mission to foster learner agency and impact through design.
"In the two months after launch, more than 17,000 members at 700+ Clubs participated in some way – a level of excitement that amazed us."
—David Crusoe, Senior Director, Digital Youth Engagement & EdTech, Boys & Girls Clubs of America
In our 20th year, edTech has accelerated faster than ever. The pandemic continues to re-shape learning, tools, experiences, and personas.
With two decades of expertise in the field, Backpack Interactive can lead the charge and meet our industry's newest set of challenges. We're ready to hit the ground running with solutions that will solve the biggest pain points of remote and hybrid learning, whether that's adaptive technology or a cross-curricular approach to SEL.
We know our design principles will fuel the next 20 years of conversation about edTech with our partners, clients, and peers, too. We're ready for the future of edTech. Are you coming with us?
Related Posts