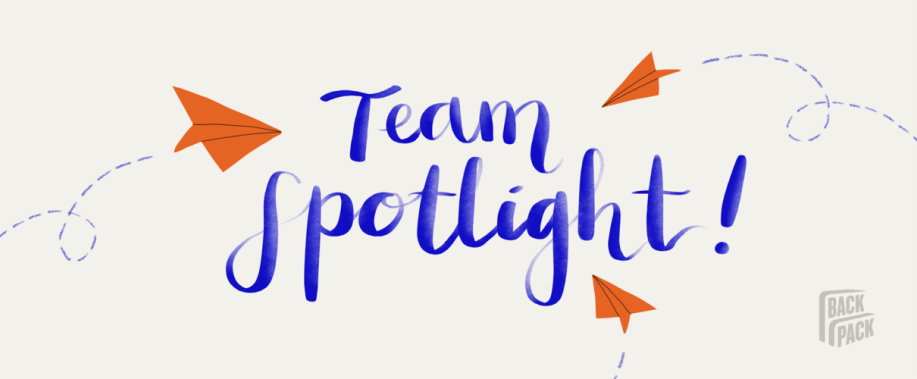 Welcome to our Team Member Spotlight! Every month we interview a member of our team and highlight their unique contributions to Backpack. We're a close-knit, interdisciplinary team, and we love to share how our experiences inform everything from UX research to visual design. Learn all about our approach to UX—not to mention staff secrets, hidden talents, and the things we can't live without.
Pantea Parsa, Designer
What was your first grade teacher's name?
Her name was Mrs. Ghadimi and we loved her very much. I remember that it was her last year of teaching and we were all sad that we can't see her in the school next year.
What is your essential work-from-home comfort item?
I have a new wall calendar called Kitties for Social Justice. It's been great to plan my week while looking at the kitty pictures that come with a socially conscious quote.
You were born and raised in Tehran, Iran. What do you miss most from back home?
I think one thing I miss the most from Tehran is my grandma's house where I spent most of my childhood in.
What are you currently reading? 
I'm reading a book called Educated by Tara Westover. It's the story of how she overcame her survivalist family to go to school. It's really interesting so far and I like the way she describes things.
What's been your favorite moment working with Backpack so far?
During my first week at Backpack I illustrated a sea turtle as an avatar for a project. Our client really liked it and I later found out that the turtle was very sentimental and meaningful for them. It felt great that I am part of something so meaningful and impactful.
What's something you are currently learning?
I am currently learning how to animate using After Effects. This has been in my to-do list for awhile and I finally got the chance to learn it by creating illustrations and animation for a blog post about SEL in edTech products (coming soon!). I'm really grateful for my team that encouraged me and gave me the space to be creative and to learn new skills.
Follow Pantea and see more of her work on Linkedin.